Samsung Galaxy Repair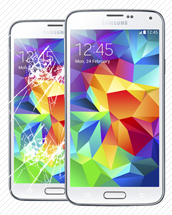 For years, we have been dedicated to serving our customers and providing top quality Samsung phone repairs. We strive to give every client the most friendly, helpful and professional service possible. We are a local repair shop located in New York City and we offer mail in services to our customers. Send us your damaged Samsung phone or tablet and we will get it back to you quickly and in proper working order. We have some of the fastest turn around available. Most repairs are done within the hour.
As an extra service, we buy old Samsung Galaxy models that our customers want to sell. We buy phones with cracked screens or other damaged parts, so if you don't want to fix it then just sell it to us. Whether the phone does not work or is only a month old, we are willing to pay you a fair price for it. We accept Samsung models from various carriers and network providers.
OEM quality Parts and Certified Technicians
We employ only the best properly qualified technicians. Our certified repair specialists each have years of experience fixing Samsung mobile phones and tablets. To aid in delivering a superior repair, we provide our technicians with the best equipment and replacement parts available. We proudly use OEM, or Original Equipment Manufacturer, parts. These pieces are tested according to Samsung specifications, which mean they will fit better and last longer than off-brand materials.
Galaxy Screen Replacement & more
At our local shop, we offer the full gambit of repairs and replacements. Our certified technicians can repair and replace many parts of a phone or tablet including the LCD, screen and headphone jack. Company specialists know how to troubleshoot symptoms to find the exact problem. This saves on repair time and cost to the customer. We use OEM quality parts, which ensures compatibility and increases the devices overall life. Additionally, our professionals can replace screens with either LOCA glue or adhesive options. We will provide whatever the client prefers.
Below are parts we frequently fix:
Symptom Troubleshooting
Battery replacement
Home Button
Lock Button
Power Button
Headphone Jack
Speaker, Microphone
Earpiece
Front and/or Rear Camera
Water Damage
Shattered, Cracked or Scratched Screen Repair and Replacemen
Warranties and Fast Service
For every repair we complete, we offer a warranty to all of our customers. This covers the parts used for replacements against manufacturer error and related malfunctions. We do not cover things such as water damage or dropping your phone or tablet. However, if the new LCD, screen or power button is not performing at 100 percent, feel free to contact us. We are particularly dedicated to fast service. Even our longest repairs only take an hour and a half to complete. Most repairs take from 30 minutes to 60 minutes.